Executive Director - Melissa Rudman
As our Executive Director, Melissa is responsible for managing the synagogue budget and its physical plant, supervising our administrative personnel, and managing the day-to-day operations of the synagogue. She works in partnership with the Rabbi, the Cantor, and other professional and lay leadership. Melissa comes to Temple Aliyah after serving as Executive Director/Director of Congregational Learning at B'nai Tikvah in Canton, where she worked for the past 15 years. Melissa can be reached through the synagogue office at (781) 444-8522 or by email.
Director of Congregational Learning and Engagement - Kayla Reisman
Kayla

previously served as our Director of Teen Engagement from 2016 to 2018. She is a graduate of Dickinson College in Pennsylvania, where she earned a degree in Sociology and Judaic Studies. At Brandeis University, she earned dual Master's degrees in Business Administration and Jewish Professional Leadership. She served as Director of Jewish Student Life at Ithaca College and, most recently, as Director of Youth and Teen Engagement for the Shames JCC in Tarrytown, NY, and Camp Program Director for Camp Twelve Trails in Pearl River, NY.
As Director of Congregational Learning and Engagement,

Kayla

is responsible for Mercaz Aliyah (our religious school) and informal post-b'nai mitzvah Jewish education. She works closely with clergy, other senior and administrative staff, and lay committees to develop and implement a unified vision for congregational learning and engagement, including innovative educational and social programming for children, teens, families, and adults. Kayla can be reached via
email
here.
Director of Gan Aliyah Preschool and Young Family Engagement - Aileen Landau
Aileen recently relocated to the Boston area from Chicago. She holds a Master of Science degree in Elementary Education from Northwestern University and is working on a second master of science degree in Early Childhood Education, with an emphasis on Leadership and Advocacy. Aileen has worked in the field of early childhood for over 20 years, as a teacher and as a director. She and her husband Peter have three children - Bess, Caitlin, and Henry - and one
cat (Alice). They are happy to be a part of the Temple Aliyah community. Aileen can be reached via
email
here.
Director of Young Family Programming - Ben Einsidler
Ben Einsidler is honored to serve as Temple Aliyah's Director of Young Family Programming. He is a third-year rabbinical student at Hebrew College, where he also earned Master's degrees in Jewish education and Jewish studies. He is also an enthusiastic b'nei mitzvah tutor and service leader, and an active volunteer member of the Community Hevra Kadisha of Greater Boston. In his spare time, he is an avid reader and enjoys cooking, running, and playing his guitar. He lives in Burlington with his wife and two young children.
Director of Youth & Teen Engagement - Nalani Haueter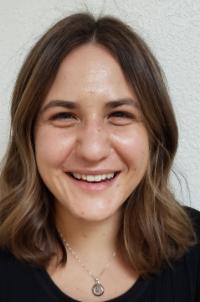 Nalani grew up on the Central Coast of California before heading east to attend Ithaca College, where she studied Sociology and spent much of her time at Hillel. After graduation, she remained at Ithaca College, working as Hillel's Engagement Professional. A recipient of the Springboard Fellowship, Nalani then went to work as the Immersive Experience Coordinator at Illini Hillel at the University of Illinois at Urbana-Champaign. Over the past year, Nalani has worked as a nanny for young children and has found a love for education, and acquiring greater knowledge about child development and the impact of mental health and well-being on a child's learning. She looks forward to bringing her passion for Jewish life and leadership to our Temple Aliyah youth community. Nalani
can be reached via
email
here.
Have a question? Need to reach the Rabbi, the Cantor, or other members of our professional staff? Then call the synagogue Office at (781) 444-8522, stop by, or send us a note. We'll either have the answer for you or get you to the person who does.
Elissa Gordon, Administrative Assistant to Rabbi Perkins. Elissa works with Rabbi Perkins and also provides valuable assistance to congregants and staff.
Linda Rosenburg, Administrative Assistant. Linda supports the administrative and professional staff and lay leadership and works closely with our Bar/Bat Mitzvah families.
Caroline Nudelman, Administrative Assistant for Mercaz Aliyah and Gan Aliyah. She is usually in the synagogue office when Mercaz Aliyah is in session and can assist you with questions you may have about the school and your students.
Elisa Blando, Bookkeeper. Contact Elisa if you have any questions about your account, getting reimbursed for Temple-related expenses, or keeping track of funds for a synagogue project or event.
Click on the names above to send an email to members of our staff.
Tuesday, May 24 2022
23 Iyyar 5782




Recurring Programs
Programs indicate whether they are in-person only, virtual only, or hybrid (both).
Weekday Morning Minyan
Sunday at 9:00 am
Hybrid
Click here to daven with us on Zoom, or join us in person.
Click here for Siddur Sim Shalom
Monday at 7:00 am
Hybrid
Click here to daven with us on Zoom, or join us in person.
Click here for Siddur Sim Shalom
Weekday Evening Minyan

Monday - Thursday evenings at 7:30 pm

Hybrid

Click Here

to daven with us on Zoom, or join us in person.

Zoom Only

NEW!

Click here

for the Siddur Lev Shalem Kabbalat Shabbat service.
Shabbat Morning Services
Saturdays at 9:15 am
Hybrid
Join us in person,
C

lick here

to join us via LiveStream,
Tuesday, May 24 2022 23 Iyyar 5782