Sisterhood - The Women of Temple Aliyah
Sisterhood - The Women of Temple Aliyah
Welcome to Sisterhood – The Women
of Temple Aliyah!
Sisterhood is a community-building resource for the women of Temple Aliyah that enables us to find camaraderie, deepen our spiritual connection to the synagogue and our connection to each other, and enjoy shared interests and events. We invite you to learn more about becoming part of our amazing community.
Sisterhood is managed by the Steering Committee (SSC): Judy Lee, Marcy Leiman and Heidi Schwartz. A Core Committee of more than 30 women helps us plan events through the year.
Check out our 2020-21 calendar!
---
Memory Boxes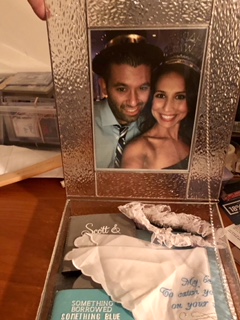 Order a beautiful memory box! The boxes make great special occasion gifts for Bar/Bat Mitzvahs, weddings, engagements, anniversaries, baby births and namings, etc. Please see this flyer for a description, pictures, and ordering information.
---
Previous events
View our calendar to learn more about Sisterhood events and groups for the coming year.
Want to get involved? Contact an SSC member—Judy Lee, Marcy Leiman, or Heidi Schwartz—or check out our Sign Up page.
We look forward to a great year with the fabulous women of Temple Aliyah!
Annual activities
Sisterhood Shabbat is our annual Shabbat morning service led entirely by Sisterhood members, typically held at the end of January. Supportive instruction enables women to take a hands-on role in all aspects of the service, even if they have never done so before. This moving event includes a relevant speaker and inspires women to feel confident and comfortable participating in Temple Aliyah's year-round egalitarian services.

Rosh Chodesh Group
Connect with other Jewish women through monthly group learning. In this participant driven study group, a different member each month chooses the area of study and leads the conversation. Study sessions can focus on a variety of topics, including Torah and Haftorah study, Jewish holidays, a Psalms selection, or any other topic of interest to the facilitator. Leading a session is not required! Discussions are in English and women with any level of Jewish knowledge are welcome. To see a list of upcoming meetings, please click here. If you have questions please contact Carol Kotler.
Book Group
The Sisterhood book group meets four times a year in the synagogue library. All are welcome to come to any or all of the meetings at which a book is discussed and warm conversations abound. Contact Ellen Baker with any questions: coachellenbaker@gmail.com.
Community outreach
Social Action is an important value of Sisterhood. To volunteer, or to find out more information about any of these activities, please contact us.
Circle of Hope
This is a local Needham-based nonprofit that collects new and gently used clothing for men, women, children and infants. Once sorted, this clothing is delivered to several Boston-area shelters serving homeless individuals and families struggling with domestic violence and substance abuse issues. Sisterhood members can drop off donations at their convenience.
College Liaison Committee
Twice a year, at Chanukkah and Passover, our committee puts together packages of holiday treats for our kids who are away at college.
Shabbat with the Elderly
This project/mitzvah involves visiting partner nursing homes on Friday afternoon pre-Shabbat and bringing Shabbat joy to the residents with prayers over wine, candles, and challah, and Shabbat songs, Hebrew songs or anything that makes the residents happy. Contact education director Alisa Levine for more information on how to support this community initiative.
Tzedakah
We select charitable organizations for which we collect tzedakah at our Fall and Spring Dinners.
Mayyim Hayyim
Temple Aliyah is a member of Mayyim Hayyim, a beautiful, local mikveh in nearby Newton, entitling a limited number of congregants to a free immersion gift certificate. All you need to do is:
1) request an immersion at https://www.mayyimhayyim.org/request-an-immersion/
2) wait 24 hours for a response
3) show up at the designated time
4) let them know you are a member of Temple Aliyah
There are numerous reasons for immersions, including relationships, women's cycles, birthing/creating a family, healing, blessings, holidays, and b'nai mitzvot. For a complete list, please visit https://www.mayyimhayyim.org/ceremonies/. To learn more about the process and its benefits, visit the www.mayyimhayyim.org website.
---
Donations are always welcome as we work to create fantastic events for our members and members of our community. We thank you in advance for your support. Please click on the button below to make a donation through PayPal.
Need reimbursement? If you have incurred any expenses for helping with Sisterhood activities, please download this form, fill it out, and send to Michele Wolfman, 31 Paine Rd., Needham, MA 02492.
---
Sisterhood Steering Committee
| | | |
| --- | --- | --- |
| | | |
| Judy Lee | Marcy Leiman | Heidi Schwartz |
---
Saturday, July 31 2021
22 Av 5781




Recurring Zoom Programs
Weekday Morning Minyan
Daf Yomi with Rabbi Perkins

Monday mornings at 8:00 am

Click Here to join us for our weekly study session.

Weekday Evening Minyan

*Summer Schedule*

Tuesday and Thursday evenings at 7:30 pm

Parashat Ha-Shavua: Reflecting on the Weekly Torah Portion

On Hiatus Until September!

On Hiatus Until September!
Shabbat Morning Services
Saturdays at 9:15 am
Click Here to join us for Shabbat services.
To watch the service via Livestream please click here: https://venue.streamspot.com/7ec3811c
Please note that at this time we are NOT
offering Sunday morning services by Zoom
Saturday, July 31 2021 22 Av 5781