Our Faculty
Judi Cohen
Judi is so excited to be working with our youngest students at Mercaz Aliyah. In addition to teaching here with us in Needham, she works during the week at Gan Shelanu in Newton. Judi holds a Bachelor of Science degree in Education with a specialization in moderate special needs from Lesley University. Previously, Judi headed the physical education department at South Area Solomon Schechter in Stoughton and was the head swim coach at the Striar JCC. Judi has always maintained a strong connection to Jewish education and understands the importance of working some physical activities into the classroom. Judi believes that the key to success in working with children is to always make sure that everyone goes home happy!
Cantor Jamie Gloth
Cantor Gloth joined Temple Aliyah in 2017 after serving as cantor in Conservative congregations in New Jersey, California, Ohio and New York. In addition to leading services at Temple Aliyah, Cantor Gloth teaches Grade 6 - Kitah Vav and leads a b'nai mitzvah workshop for parents and students entitled the Bar/Bat Mitzvah Institute. Cantor Gloth attended the University of Cincinnati, where he majored in Judaic Studies and was extremely active in the Hillel Jewish Student Center, starring in two stage productions there. After graduation, he attended the H.L. Miller Cantorial School and College of Jewish Music at the Jewish Theological Seminary, in New York. While studying at JTS, he and his classmates starred in and toured with the well-received cabaret show Cantors on Broadway. He received his Master of Sacred Music degree and investiture as Hazzan from the Seminary in 1997.
Nalani Haueter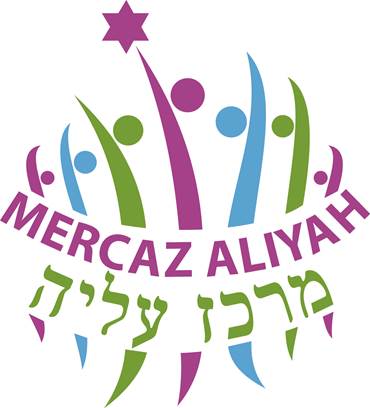 Nalani is excited to be teaching for Mercaz Aliyah where she is working with Grades 4 - 7. In addition, Nalani also serves as Director of Youth and Teen Engagement, overseeing youth programming for grades K-12. In this role, she oversees Mishpacha Aliyah, our program for families with kids in grades K-5, and our USY programs, and supervises TACOS and TACOS2, Temple Aliyah's teen community service programs.
Rina Holtzman
Rina is highly regarded as a master Hebrew teacher. Born in Israel, Rina remains a true Sabra at heart. She is passionate about teaching children of all ages to love Israel, love Hebrew and love being Jewish. She brings energy and enthusiasm to all of her students. When she is not at Temple Aliyah, Rina teaches Hebrew at Schechter in Providence, RI.
Caroline Nudelman
In addition to working in the Temple Aliyah office supporting Mercaz Aliyah for many years when she supports teachers and the Director of Congregational Learning and Engagement. You will also find her in the classroom teaching Hebrew Through Movement. In addition, she teaches beginning Hebrew to adults through Ivrit LaKol in Lexington and privately. Caroline holds a B.A. from the University of Pittsburgh in Anthropology with a minor in Hebrew. She also holds a graduate certificate from the Program for Women in Politics and Government, UMass Boston, and attended Ulpan and School of Education classes at Hebrew College.
Wilma Sack-Poyser
Wilma has been at Temple Aliyah for 8 years. Wilma made Aliyah with her family as a young girl and spent 15 years in Israel. During her years in Israel, Wilma attended school, served in the IDF, traveled across the country hiking, camping, climbing and exploring Israel. Wilma loves spending time with her new husband Wayne, her 2 daughters May-Tal and Elli-Ann, and her amazing Pomchee dog, Oreo. Wilma holds a BS in Business Management and a Masters in Jewish Education from Hebrew College. Wilma loves the Temple Aliyah community and looks forward to sharing her love of Israel and Hebrew with the youth.
Julia Spiegel
Julia is thrilled to be teaching 7th graders in Mercaz Aliyah and acting as the Jr. USY Youth Adviser for Temple Aliyah. Julia recently moved to Boston after living for five years in Boulder, Colorado, and before that Chicago, where she's from. Julia is in her second year of rabbinical school at Hebrew College in Newton. Julia studied at the Conservative Yeshiva in Jerusalem, and went to Indiana University for undergrad, where she majored in Jewish Studies and Spanish. Last year, she worked as the Marketing and Communications Coordinator for Congregation Bonai Shalom, the Conservative Synagogue in Boulder. In her free time Julia loves to try new recipes, go on long walks, sing niggunim, and play cards. She's so excited to meet the Temple Aliyah community!
Nic Sprenger
Nic has been working at Temple Aliyah for several years as a teacher's assistant, and doing "a little bit of everything." Nic has helped out in the office, been our bus captain, supported students with additional learning needs, and assisted during USY events and during our Early Release Days. Nic is considered an MVP by all of our teachers.
Tuesday, May 24 2022
23 Iyyar 5782




Recurring Programs
Programs indicate whether they are in-person only, virtual only, or hybrid (both).
Weekday Morning Minyan
Sunday at 9:00 am
Hybrid
Click here to daven with us on Zoom, or join us in person.
Click here for Siddur Sim Shalom
Monday at 7:00 am
Hybrid
Click here to daven with us on Zoom, or join us in person.
Click here for Siddur Sim Shalom
Weekday Evening Minyan

Monday - Thursday evenings at 7:30 pm

Hybrid

Click Here

to daven with us on Zoom, or join us in person.

Zoom Only

NEW!

Click here

for the Siddur Lev Shalem Kabbalat Shabbat service.
Shabbat Morning Services
Saturdays at 9:15 am
Hybrid
Join us in person,
C

lick here

to join us via LiveStream,
Tuesday, May 24 2022 23 Iyyar 5782