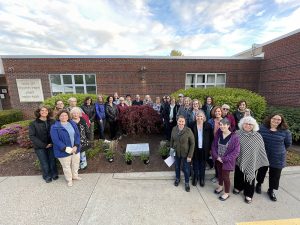 At Temple Aliyah, we are proud to offer a wide range of engaging Jewish and social programming that forms, and informs, our community.
We are committed to the evolving Jewish journey of each of our members and the broad spectrum of collective interests. To support each of us on our path and to ensure each journey is rewarding, our members participate in a wide range of social, educational, and spiritual groups that facilitate community belonging, Jewish fulfillment, and personal growth. Activities from Social Action, to Sisterhood and Men's Club, to Ritual, and Community Caring (Hesed), reflect just some of our personal interests. We are deeply involved in supporting Israel and in social action activities related to immigration and resettlement, food assistance, homelessness, and social justice issues. In this section you'll find a wide variety of the groups offering programming at Temple Aliyah. Please click on any of them for more information. Visit Aliyah Assist to learn about one-time and ongoing volunteer opportunities.
Pick what appeals to you and get involved! Don't see something that meets your needs? We are always looking for new directions and new ways for our members to connect. Get in touch with the Temple Aliyah office at 781-444-8522 and help us make your vision a reality!