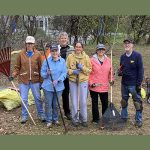 The term "Sukkat Shalom," is found in our evening service where we read: ufros aleinu sukkat shlomekha, "Spread over us Your shelter of peace." Although we are familiar with the word Sukkah as the structure we build each year for Sukkot, the term Sukkah means more generally "shelter" or "canopy." Shalom, of course, means peace, used here to convey a sense of tranquility and calm. The name Sukkat Shalom expresses our hope that this new and innovative space, as an extension of our synagogue, will offer a place of peacefulness, reflection, and connection with community in the shelter of nature.
Please take a look at the blueprint, also found under the tent, and join many of your fellow congregants who will be volunteering over the next year to create this garden space for our community.
This project has been made possible by a generous bequest from our late friend and fellow congregant, Molli Krausz. May her memory be a blessing to us all.