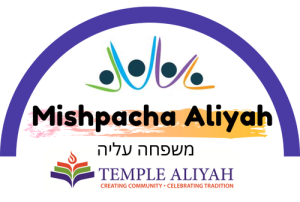 Mishpacha Aliyah is Temple Aliyah's community of families with children in kindergarten through grade 5th grade. Our kids attend public schools, Jewish day schools, and independent schools. Together with Temple Aliyah staff, we host programs designed to create social connections, celebrate Jewish family life, and have fun. Mishpacha Aliyah is a wonderful way for kids and parents to meet new families and experience Jewish learning side-by-side. All Temple Aliyah families are welcome, and encouraged to invite new families to any of our events!
To learn more about Mishpacha Aliyah, please contact Stuart Karp.
Join our private Facebook group to learn more about our community and upcoming events! This group is where we generate interest and schedule impromptu gatherings such as sledding meet-ups on snow days! When you join the group, make sure to tell us a little bit about you and your family! We cannot wait to meet you!